Kits
Last Updated July 26, 2021
Kits, Kitting, Bundles are just a few ways that these items are called by various people and systems. These allow you to create a grouping of items that make up a complete 'package'. These could be seasonal offerings or special discounted groupings to help move additional product sales for various reasons.
Setup a Catalog Item as a Kit is easy. Go to edit a new or existing Catalog Item and click the checkbox for 'Is Kit'.
Options
Scrolling down in the Catalog Item sidebar, you'll come to the Kit Options section. This is an overview of what each option is about:
Pro Tip: Selecting None of the options assumes your kit is what we call a 'Simple Kit'.
Advanced Kit Settings
Has Kit Base Options
If you offer the ability to customize a kit, but require certain items to be always included – these are base options. This opens up two additional features – 'Add Each Item' and 'Item Options Addl. Charge'
Add Each Item
Note: This requires selecting 'Has Kit Base Options'
Each Option Selected – Base Options and Additional Options – are setup on the order as their own line items. Example:
Assume a kit of tools, with a base option of a hammer, and then additional options of a screwdriver and a wrench.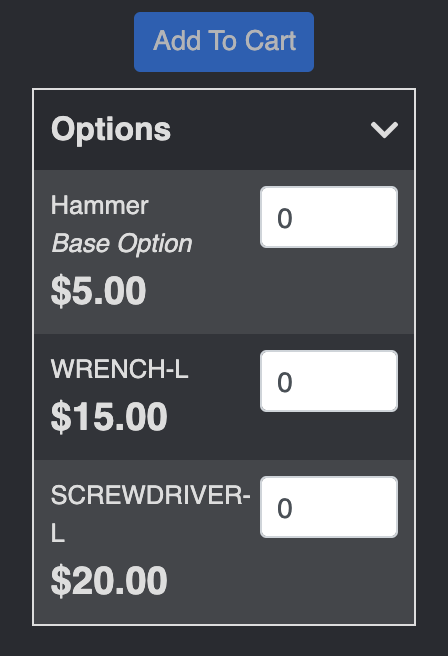 If you were to enter in a quantity for each item, then, add to cart, the result in the order will be 3 kits added to the order:
Kit #1 – Just the Hammer (Since it's a base option)
Kit #2 – WRENCH-L + Hammer
Kit #3 – SCREWDRIVER-L + Hammer
Item Options Addl. Charge
Note: This requires selecting 'Has Kit Base Options'
If the additional item options from the base options are an additional fee. Orderwerks will calculate this from the price group value for those options and add it to the kit base value. For instance with this kit: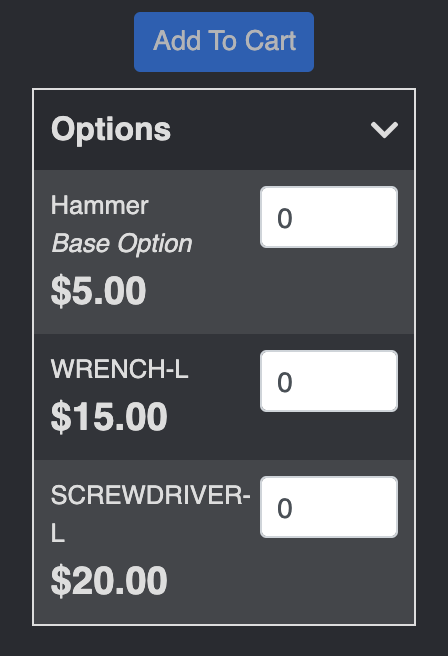 The Kit base value is $5. The WRENCH-L price group price is $10 and the SCREWDRIVER-L price group price is $15, with each being added to the base kit price of $5 giving us $15 and $20 respectively.
QuickBooks Online Bundle Ea. Option Own Line Item
For those with a QuickBooks Online Integration, you can have the equivalent Bundle setup with each option (including any base options, should you have that selected) as its own line item on an Invoice.